When buying the latex mattress  it's very difficult to choose the best one, what to consider while buying. Like most of the people like 3 layers or 9 inches height of the mattress. Latex is available in 100% natural latex to blended latex which is naturally mixed with synthetic one. However synthetic word doesn't sound good but blended one has a double life than natural one. From top to bottom uniform cell structure is given in synthetic latex in the blend. It has long life expectancy. Some of the points that must be considered while buying latex: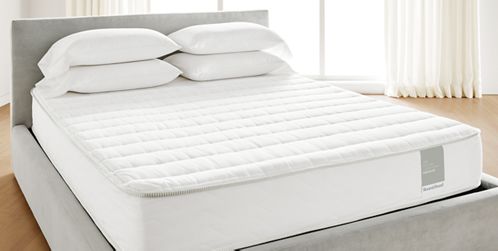 Be sure about what you are buying is "all latex" that means it has only one layer on the top that is latex.
Go for the company that is giving you the full description of the product and answers to all the questions.
One that doesn't go for sale all the time. As good and brand products are not something that is made to compromise.
A good reputation and long track record. If you directly buy from the factory the better price you will have. Price goes higher when moves from the factory.
Characteristics like height, weight, evaluation of your sleeping problems and general preference should be the priority. A good customer service is a must.
A trial period of 90 days allows you to sleep and check. Go to the site or company that gives you a trial period.
If you are going through some problems regarding the product some of the retailers have the refund options for you.
These were some of the points to consider while buying online. Be sure about the basic looks from the company. When you bring the latex it's all set and you are ready for the first great sleep that usually people miss. Using latex your body will feel that something is new. When you move or roll over on your side it conforms to your shape and spring back to its original form. Like standing erect our spine is supposed to be in the same position.
When your body sleeping for the long period it does not give support that is must for the spine. The muscles trained over a period of time for what they to do and they need time to the new bed to realize the change. Your body needs some couple of nights to adjust on the new mattress. You must give your mattress at least 30 days to realize if it is working or not. But using latex people are supposed to say that they can't leave their mattress. If after using for 30 days your mattress is not given that response which is expected then there is a return policy by which you can exchange the mattress.
Latex is the blessings for those who are waiting for the good night's sleep. So next time when you are going for buying a mattress for your new home or bed then go for latex mattress as they are long lasting and helps you to keep healthy.